The International Air Transport Association (IATA) has introduced a free online interactive world map to increase the awareness of the latest COVID-19 travel regulations. This interactive world map reveals travel update of each country. This gives you a rundown of countries-imposed immigration restrictions.
Given the rapidly evolving nature of Covid-19 outbreak, it is necessary for every traveler to check the affected areas before they book the plane tickets for wherever they wanted to go. Frequently changing travel regulations have turned out to be a crippling problem for international travelers as the government has abruptly changed travel restrictions amid pandemic.
Precautionary measures of airlines
The airlines and aviation authorities have been working closely with government agencies worldwide to provide accurate information about the travel restrictions.
Interactive Covid-19 Travel Regulations Map is powered by Timatic. Timatic is an important resource used by airlines to validate the travel requirements for passengers. The interactive map contains comprehensive information on documentation which is required for international travel.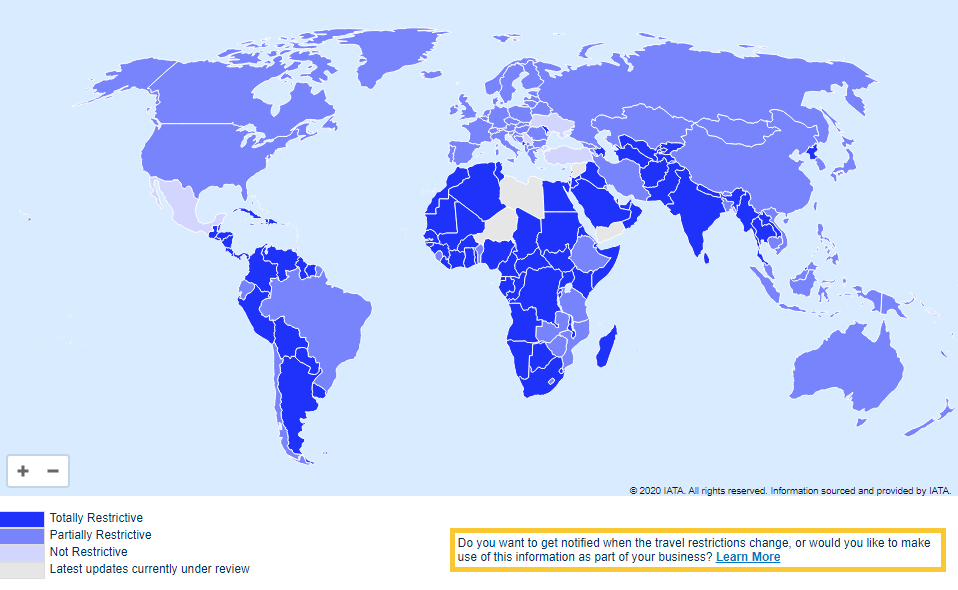 Timatic is updated more than 200 times a day to provide accurate travel regulations specific to the current pandemic based on one's citizenship and country of residence to keep pace with the dynamic situation.
On the interactive world map, countries are colour-coded based on their travel regulations. This will give you easy access to travel regulations of a specific country and it can be easily accessible on mobile phones. When traveler clicks on any specific area, it will show a popup with the current travel restriction of that area.

As per the recent survey, more than 80% of travelers are concerned about potential quarantine restriction as many of them are catching the virus during their journey. This easy resource will play a vital role in providing the confidence to open borders without quarantine measures.
With the uncertainty and changing the travel regulation of each country, this map will provide timely information for the traveler. By using this resource travelers can easily stay updated with the Covid-19 travel restrictions of destinations where they are about to fly.
Travelers can book with peace of mind and will fly confidently without worrying about the travel regulations of their destination country.