Travelling in Business Class offers you the chance to have the most comfortable journey ever. Usually, people tend to choose transatlantic flights as opposed to transpacific flights. The reason for this is that there are plenty of sales on Business class fares across the Atlantic, while there are hardly any such sales on flights across the Pacific. The prices of business class flights across the Pacific are generally quite high. But that is not the case anymore as Hainan Airlines has introduced a new offer on business class flights between Los Angeles and Shanghai.
With this offer, you can get a round-trip business class flight between Los Angeles and Shanghai for only $1700. This offer from Hainan Airlines will help you fly with all the luxuries of business class for a cheaper price across the Pacific. It's a great time to fly between Los Angeles and Shanghai, whether it's for business or leisure. Book your business class flights with TravelGuzs to take advantage of this offer.
Business Class Flight Fare Rules
This offer is available on travel from 26 August – 13 December or between 23 December – 31 December.
You will be able to have unlimited stopovers, with 2 days of stopover for free, while remainder for $100.00
Although, stopovers will be limited to 7 days.
If you are accompanied by children, their own seat cost will be 75% of the adult fare.
Whereas, infants (aged under 2) can travel without his/her own seat costs 10% of the adult fare.
Hurry to take advantage of this special offer on business class flights from Los Angeles to Shanghai. Since there is no specified end date for this sale, you may find the fares around for a while or they may even disappear at any time without notice.
Routing
As mentioned above, you can even opt for long layovers on your flights. The offer consists of two main types of itineraries available. One involves long layovers, which can often be overnight. Another one where any of the layovers will be limited to just a few hours.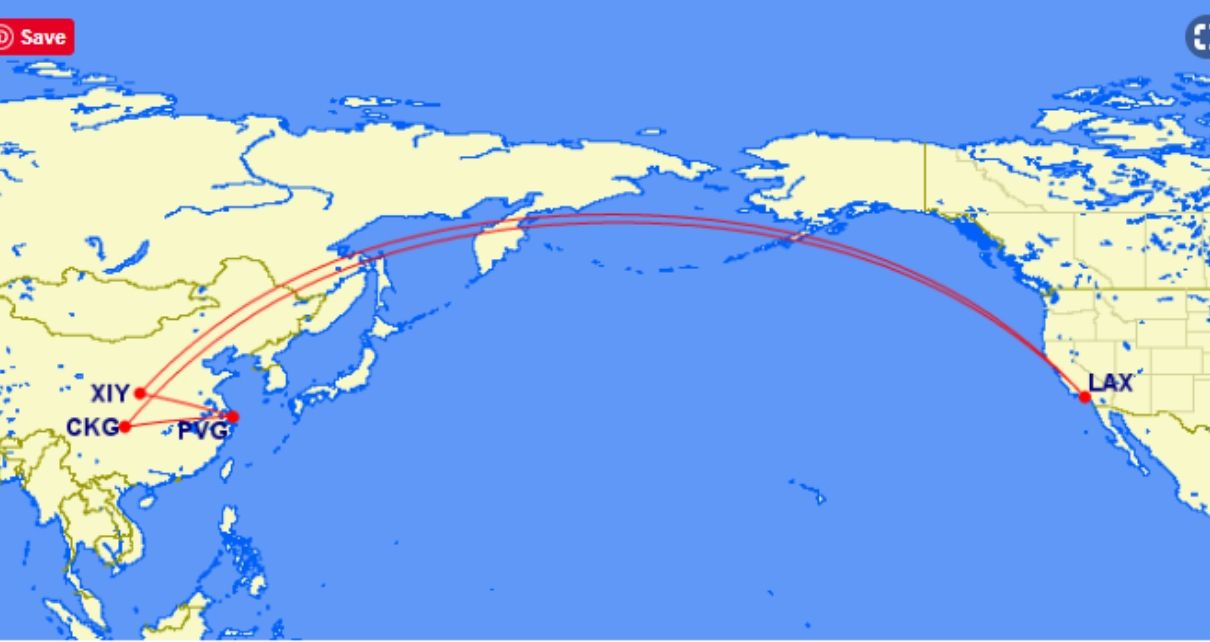 While the itineraries consisting of the long layovers involve routing through Chongqing and/or Xi'an, the itineraries with the shorter layovers will route through Xi'an only.
Seating In Business Class
Business class flights are all about comfort. With the preferential treatment, attentive service, delicious meals, and fully-flat bed-seats you are bound to have a relaxing flight.
Hainan Airlines fly the Boeing 787-9 Dreamliners on the flight routes from Los Angeles – Xi'an and Los Angeles – Chongqing. But the business class seats in either of the flights are very different.
The Dreamliners operating on the LA – Xi'an route offer Hainan Airline's new reverse herringbone Business Class cabin. This kind of seating has a 1-2-1 layout which offers all aisle access seating and is also extremely comfortable.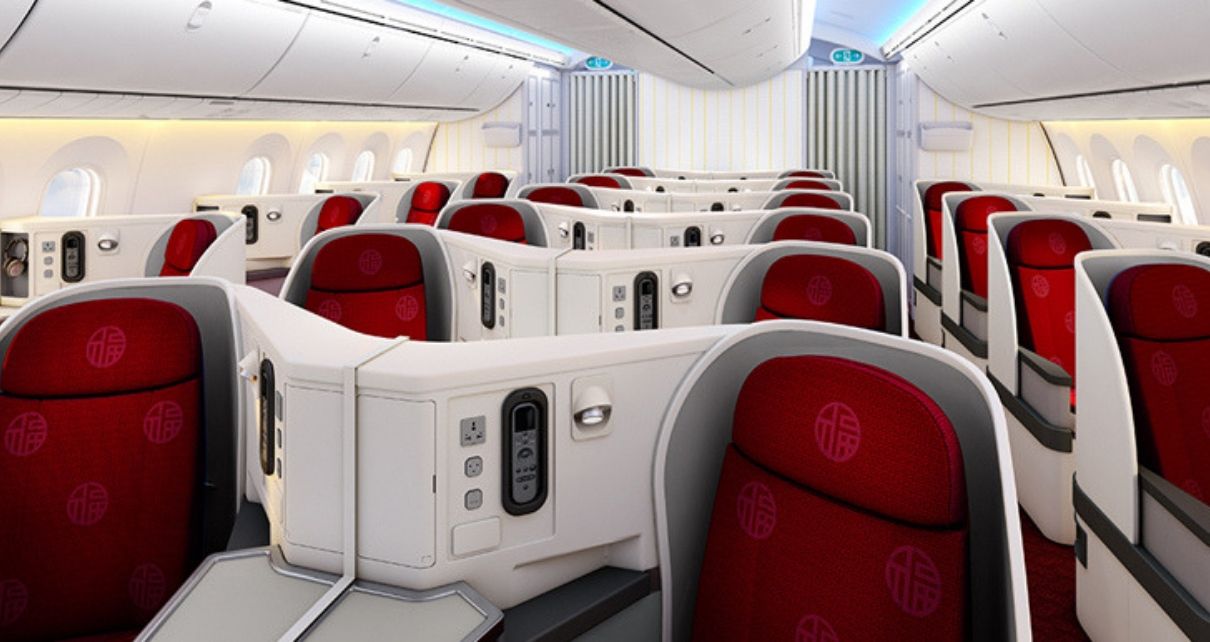 In the Dreamliners operating to/from Chongqing, the airline's older Business Class seats are available. The layout of this seating is set out in a 2-2-2 form. While the older seats may not seem as stylish as the new reverse herringbone seats, they shouldn't be dismissed. The sleeping position offered by these seats is actually so good that a lot of people still prefer the old business class seating.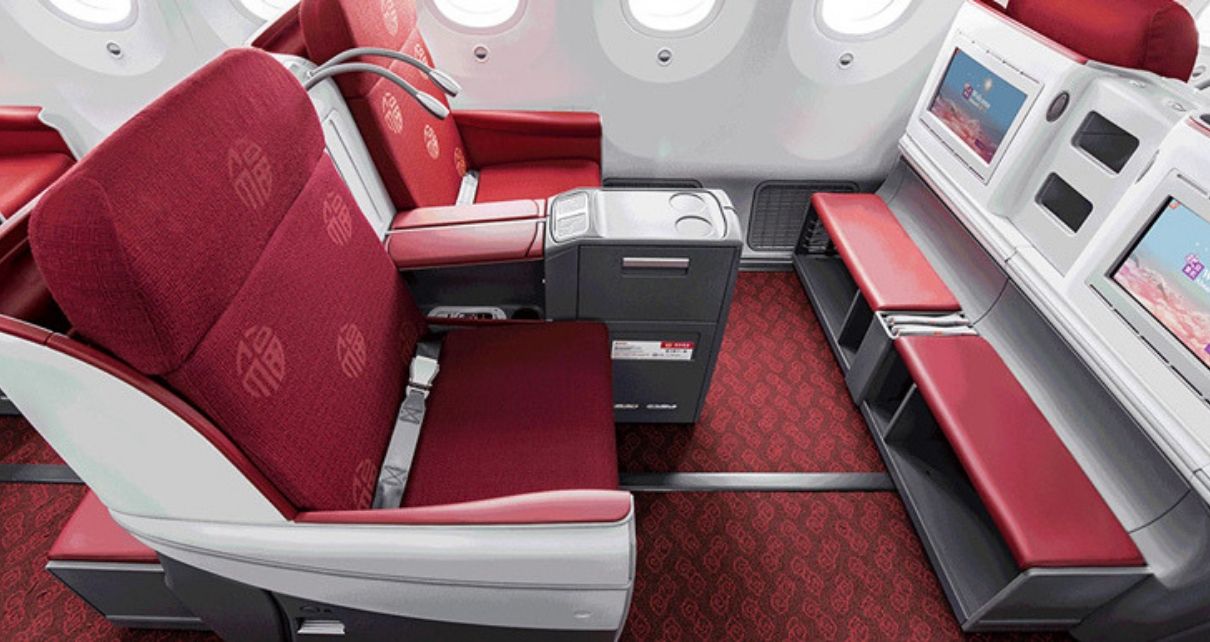 This deal has expired!!
Don't miss these deals - Subscribe now! :