Memories are a treasure that we can keep with us forever. Memories made with our loved ones, of things we have done and of places we have been. What's the best way to make memories you ask? My answer would be to travel! There are so many ways travelling affects our lives, whether it's to get closer to someone or get away from the world itself. Travelling will widen your horizons and help you open your mind to new experiences. This Memorial Day weekend travel without having to drill a hole in your pocket.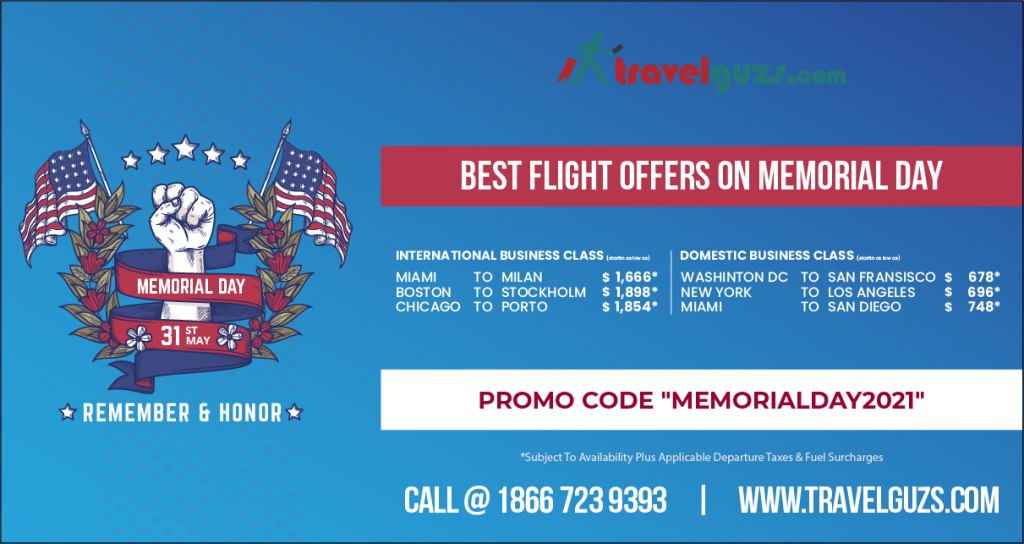 Memorial Day Weekend in 2021
We celebrate Memorial Day in the memory of our past and present soldiers, it is formally known as Decoration Day, this special holiday observed yearly on the last Monday of May. All weekend long traditions of Memorial Day take place in cities throughout the United States. There are countless parades and festivities that you can be a part of to honour the forefathers of the nation.
If parades are not your style, the Memorial Day holiday weekend has lots to offer. As Memorial Day weekend marks the unofficial start of summer, it's the perfect chance to take a short break from your daily routine. Take a holiday and visit your family or go on a trip exploring new places.
Enjoy Memorial Day Weekend Trip with TravelGuzs
Did you know that Memorial Day is one of the biggest travel holidays in the USA? A lot of people take this long weekend holiday as an opportunity to go on a refreshing break. Memorial Day deals and offers only making it easier for everyone to travel.
Book your tickets now and get the best flight deals with TravelGuzs for Memorial Day. Pick your favourite travel destination in the USA or abroad and reserve your seats now to get the best business class flight tickets. Our Memorial Day offers will make travelling much more comfortable and fun for you!
Lacking inspiration on places to go on Memorial Day? Check below fares on Memorial Day Weekend 2021 trip, to make it truly memorable.

This deal has expired!!
Don't miss these deals - Subscribe now! :