India reintroduce all kinds of tourist permits for foreign citizens, over two years after international travel was halted owing to the Covid-19 outbreak.
The standard paper tourist visa, which has a five-year validity and is available to citizens of all nations, has also been reinstated. Similarly, the ministry announced that long-term 10-year regular tourist visas for nationals of the United States and Japan have been restored, and fresh ones would be granted immediately.
When regular foreign flights were halted in March 2020, all of these visas were suspended.
Except for tourist visas, a gradual relaxation of visa and travel restrictions for international and Indian visitors to India for business, conferences, jobs, education, and research began in October 2020.
Tourist visas were given for the first time in 18 months on November 15 last year, but only for chartered flights.
Tourist visas, medical visas, business visas, conference visas, student and research visas, missionary visas, film visas, journalist visas, sports visas, intern visas, and so on are among the 21 various types of visas available in India.
"All types of visas are now authorized to come to India," claimed an MHA official who did not want to be identified.
Check below Official Document from CGI, Houston: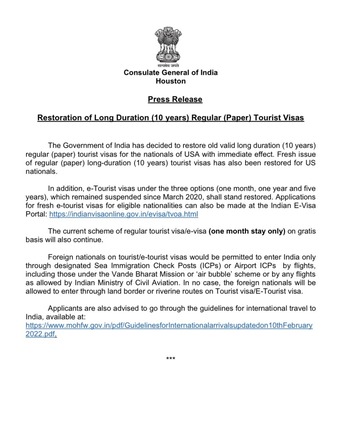 Call us for more details: 1-866-723-9393