The long-awaited World's largest event Expo 2020 is ready to welcome the world. The Expo 2020 Pavilions Premiere was launched, on Thursday, and will offer visitors an opportunity to experience Terra – The Sustainability Pavilion.
The Pavilion will be open to the public from 22 January 22nd to April 10th, allowing visitors to preview the Expo 2020 Thematic Pavilions. It will also give visitors a glimpse of what is to come as Expo 2020 Dubai welcomes the world from October 1st, 2021 to March 31st, 2022. You can book your online ticket to enjoy the experience for only AED 25
Expo 2020 hosted by Dubai in the UAE, originally scheduled for Oct 20th, 2020 through Apr 10th, 2021, is now taking the first steps towards an opening to the Pavilions Premiere to the public, despite rising coronavirus cases across the globe
After it's a year-long delay, Dubai authorities are in a rush to get Expo 2020 up and running that has almost blighted its already fragile pre-pandemic economy. The World Fair is expected to attract around 25 million visitors to the UAE and spark a multitude of business transactions. It signifies billions of dollars of infrastructure investment to boost international tourism and investment.
What To Expect When Visiting Pavilion Premiere
Visitor gates will be opened between Tue-Thu 15:00-21:00 and Fri-Sat 16:00-22:00 to enjoy the site while you are waiting for your pavilion experience. Take a walk, discover the different tastes of our food trucks and pavilion cafes, browse local and international products from retail carts and shops and enjoy a selection of live entertainment for all ages.
Visitors can enjoy the playful and epic journey through the natural world, including an interactive walk through the forest, where visitors will discover the harmful effects of human decisions on the planet. There is also a courtyard area where several of the leading UAE artists—Mohamed Ahmed Ibrahim, Mohamed Kazem and Zainab Al-Hashemi—exhibit works specially commissioned for Expo 2020 representing aspects of human-earth interaction.
There is also a kid engaging activities including a children's playground, a gift area and a number of dining outfits. Experience manages to indulge all the senses and leaves a powerful message. After the World Fair, Terra will remain a science center to inspire future generations to make sustainable choices.
Expo 2020 is about social interaction, conversation and intellectual debate. Dubai, along the center for trade and trade in the East, is resuming its ancient role through the world fair.
Dubai Stopover Packages with Expo Passes
TERRA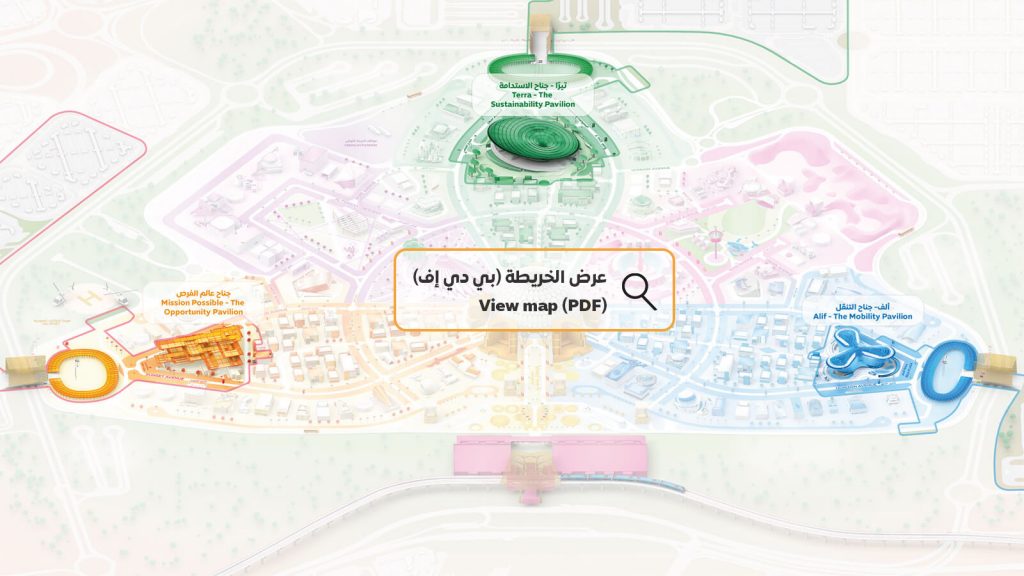 The first Thematic Pavilion to open to the public, Terra features a huge 130-metre-wide canopy covered with 1,055 solar panels that look like flying saucers or a technological representation of a "Energy Palm Tree". The iconic Pavilion was designed by world-renowned Grimshaw Architects to achieve Leadership in Energy and Environmental Design Platinum certification—the highest available accreditation for sustainable architecture. The Pavilion uses cutting-edge water-reduction strategies, water recycling and alternative water sources.
The panels generate 4 gigawatts of alternative energy per year, enough electricity to charge over 900,000 mobile phones. They rise from the desert landscape in the middle of the fair's extensive grounds, which cover a total of 438 hectares, and are located in the district of Dubai South, near the International Airport of Al-Maktoum. The feat is so impressively large that it almost hides the sight of the construction workers busy completing the rest of the national pavilions.
During the press conferences, the organizers said that the fair has always been planned to have a digital component, which is particularly crucial in the context of coronavirus cases and an uncertain future. Despite this, the opening of the Pavilions Premiere on Saturday showed nothing but optimism and enthusiasm.
Official Countdown of Expo 2020 begins
Expo 2020 Dubai
Expo 2020 Dubai will bring the world together From Oct. 1, 2021-March 31, 2022, in a spirit of hope and optimism and with a shared goal of solving some of our greatest challenges. It will showcase the biggest innovations, developments and ideas from around the world, enabling action to be taken towards a better world under the theme of "Connecting Minds, Creating the Future". Expo 2020 will be an endless journey of discovery, with more than 200 participants – including nations, multilateral organizations, businesses and educational institutions, as well as millions of visitors – taking advantage of their collective power to change the world for the better. Expo 2020s sub-themes Opportunity, Mobility and Sustainability will encourage visitors to make a conscious effort to think differently.